Dakhale vatap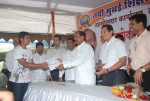 The one day free camp organized on May 3, by Navi Mumbai Shikshan Sankul in association with the Thane Tahsildar office to issue various certificates that are required for admissions in colleges, for jobs and businesses and official work has the year too been a grand success.
Around fifteen thousand residents reportedly benefitted from the camp held at R.F. Naik College in Kopar Khairane. State minister Ganeshji Naik who inaugurated the camp appreciated the holding of the camp saying it helps gives the right to the society.
Caste, non-creamy layer, income, age, domicile and nationality certificates were issued at the camp that began at 8 am in the morning. Applications were received till 2 pm. Facilities of photocopy machines were provided at the camp free. The filled in applications were checked by personnel at the camp. The special Executive officers and witnesses too were present.
To save the time of the applicants, the applications had been made available in advance at various locations several residents infect filled up the forms in advance and submitted them at the camp along with the requisite documents.
Except caste and non-creamy layer certificates, all other certificates were issued on the same day. Attestation of documents was also be done at camp.
Speaking on the occasion Ganeshji Naik said, "Shikshan Sankul has been doing yeomen service in increasing the standard of education in the city. With the country progressing towards becoming a super power, the educational standards in our country has been on the rise and this is a very good sign."
Added Naik, "Last year, twelve thousand residents had taken benefit of the camp. This year the number has increased to 15,000, the camp is obviously serving its propose."
Announced the minister, "Since the response this time has been fantastic, one more free camp to issue the same certificates will now be also held on May 22,"
Said Shikshan Sankul president MLA Sandeepji Naik, "Students and their parents have to spend a lot of time, money and effort to get certificates from the tehsil office has to cater to the entire region and hence the processing is delayed. Following Minister Ganeshji Naik's instructions MP Sanjeev Naik's instructions MP Sanjeev Naik held a similar free camp in Mira-Bhayender in 2007 and we have followed it up the two camps since last year."
Added Sandeepji Naik, "The certificates and other such certificates are required for admissions, passport, government schemes, municipal schemes, women development schemes etc. Residents will be able to take advantage of such schemes after getting certificates from the camp."
Pleased at the success of the camp, Sandeepji Naik said, "This has been possible due to the unstinted support of all the volunteers of Navi Mumbai Shikshan Sankul and the officials and personnel of the Tehsildar office, Special mention should be made of Tehsildar Krishana Jadhav who was a big help."
Said Tehsildar Jadhav, "The population has of Thane district has reached 38 lakh people. However, there is just one office to issue the official certificates. This free camp organized by Navi Mumbai Shikshan Sankul has been a great help to all. The issue of various certificates under one roof and that too in a perfectly disciplined manner needs to be congratulated."
Sated Member of Parliament Sanjeev Naik, "The response of the people to the camp is the true measure of its success."
The applicants were of course elated. Said Sahil Poddar, "My worries for admission to Enginnering college next year are over as I have got my domicile certificate at the camp. No more running around for me."
Added Krishnakant Mhatre, a senior citizen, "Since I have got the certificates I needed at the camp, I have been spared the exercise of running helter and skelter around several offices in Thane. This has been a great help."